Our Mission.
Aloha Independent Living Hawaii (AILH) is a grass roots 501 (c)(3) non profit organization whose mission is to provide independent living programs and services for persons with disabilities in Hawaii.
Our Company.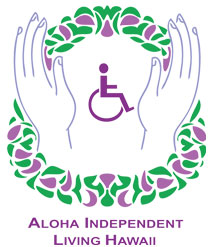 We are here to assist you and answer any questions you may have. We are currently, the only Statewide provider for Independent Living Services and Programs in the State of Hawaii. We believe in access to services as part of our independent living philosophy. Our staff travels directly to you. New consumers and inquiries are always welcomed. Call us today at 800-385-2454 (AILH)

AILH was founded by a group of experienced, committed and dedicated professionals who wanted to give persons with disabilities in Hawaii the choice of where to receive independent living services. The majority of board members and staff are persons with disabilities.