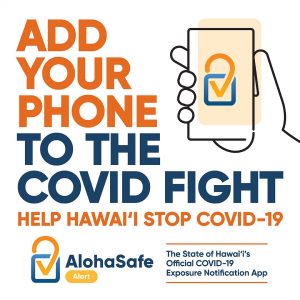 Add your phone to the fight against COVID-19 by downloading the AlohaSafe Alert app. Help Hawai'i stop the spread of the virus.
Every1ne Hawaii is proud to be a partner of AlohaSafe Alert, an app developed for the community, by the community to help stop the spread of COVID-19. Together with the Hawai'i State Department of Health (DOH), aio Digital, Hawai'i Executive Collaborative and Every1ne Hawaii, this app will notify users if they have been exposed to the virus.
The more people who use the app, the safer and healthier we will make our community. Studies show that for every two downloads of the app, one infection can be prevented. Combined with other measures, if 15% of our community uses the app, we can reduce infections by 8% and decrease deaths by 6%. The app was well-received in a pilot program in Lāna'i and Hāna and showed that it is easy to use and effective in slowing the spread of the virus.
AlohaSafe Alert will help speed up the contact tracing process and add another layer of safety to protect you and everyone in the community. The free app is a powerful example of our community coming together so that Hawai'i can move toward a healthier future. For more information about the program, visit www.AlohaSafeAlert.org.