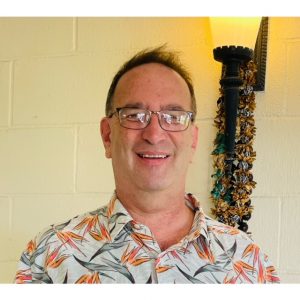 TeleConnect Program Manager: Brian Hauser
Brian Hauser designed the TeleConnect Program and has been managing it since its inception in 2020. He has been the Systems Change Advocacy Coordinator at Aloha Independent Living Hawaii (AILH) since 2014 and previously served on the AILH Board of Directors.
Brian Hauser attended the University of Hawai'i at Manoa and received a graduate-level Interdisciplinary Certificate in Disability and Diversity from the Center on Disability Studies in the year 2013. Brian was a Disability Program Navigator for four years at Tomorrow's Workplace in the state of New York where he helped clients navigate disability programs such as social security, food stamps, DVR, etc.
Brian earned his Bachelor's of Liberal Arts with a concentration on Disability Studies, including the neurology of dyslexia, from Sarah Lawrence College. Brian also holds an Associates's Degree from Landmark College which specializes in learning disabilities.
Brian brings a wide range of skills to this endeavor including research, grant writing, reporting, advocacy, data management, networking, program management, and assistive technology. He leverages all of his many years of disability experience and education to better serve the disability community of Hawaii. Brian's deep understanding of the many types of disabilities and experiences with his own disability aid him in his goal to help people achieve all they can in living well with their disabilities