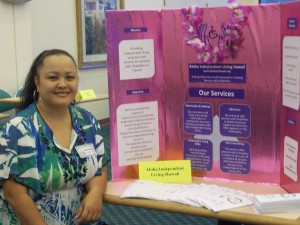 The concept behind independent living (IL) is the empowerment of persons with disabilities to make choices in their lives that will enhance their dignity and self-respect, and provide full integration into the community as equal citizens with all the privileges and responsibilities available to others.
The practice of "consumer control" forms the foundation for staff resources and service delivery. We follow the best practice and IL philosophy of "nothing about us, without us."
Services are free and the only eligibility requirement is that consumers must be a person with a disability.
AILH provides five core services:
Information and Referral
Our staff will assist and provide information of community resources to help consumers with their independent living needs.
Peer Counseling
This service offers persons with disabilities an opportunity to be a part of a network of individuals with disabilities who are living independently in the community.
Support from peers offers emotional, social and practical assistance that helps people do the things they need to do to stay healthy and to continue to lead independent lives.
Advocacy
Consumer / Individual advocacy: We will work with persons with disabilities to obtain necessary support services from other agencies in the community.
Systems Advocacy: To inform and advocate for change in an effort to increase equality and inclusion for the disability community.
Independent Living Skills
Training provides individualized instruction in life skills and setting and achieving goals such as using public transportation, money management, social skills, recreation opportunities, daily living skills, self advocacy, etc.
Transition  
Our staff assists young people with disabilities transition to employment, further education, or independent living. Our staff also assists people in transitioning from health care facilities back to community-based living or help people avoid entering institutions.
FaceBook Private Peer Support Groups: