What does Independence Mean to You?
By: Alan Germain, Mobility Specialist, Soderholm Mobility, Inc. June 30, 2021
Celebrating our nation's independence day on July 4th can be a meaningful time to reflect on what independence means to us. It was Independence Day, 20 years ago that our Company President, Denise Soderholm, was released from Rehab Hospital of the Pacific to return home to start her personal journey of rehab and recovery from her diagnosis of Transverse Myelitis.
For someone with a disability, independence can mean many things.
Acts of daily living many people take for granted, may present unique challenges for many of us who live with a disability. Depending on the level of your ability, you may require the use of assistive devices to accomplish many tasks in the course of a day. These devices can be something as simple as a shower chair, or as sophisticated as a modified computer for the vision or hearing impaired, or adaptive steering equipment for your car.
Nothing exemplifies independence more than mobility. The ability to run errands, go shopping, or pick up your keiki on your own terms can be very liberating. Having the freedom of mobility can bring us closer to the people and the places that we love. It also creates opportunities to pursue education or career goals, and become more involved in our community.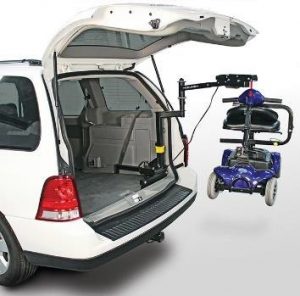 For instance, a scooter user who wishes to drive, is faced with the challenge of loading their scooter into their vehicle, and then offloading it when they arrive at their destination. Lifting an 80 pound scooter in & out of your vehicle multiple times a day is not an option.
An ideal solution for this scenario would be a motorized lift. This is a device that can be mounted to the back of most vehicles, or inside minivans and SUVs. With the push of a button, your scooter can be safely and efficiently hoisted into your vehicle, and independence is yours!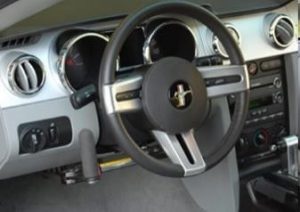 Another liberating set of devices are hand controls. These are simple controls that convert the foot controls of your vehicle to your hands. Now people with disabilities that affect the lower portion of their body can operate their automobiles with ease. Once installed and the user is trained, these are fairly inconspicuous and safe to operate.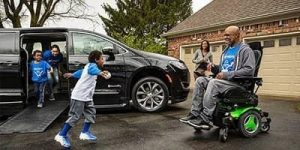 The most advanced mobility product in this category is the wheelchair accessible van. These are technological marvels. A standard minivan from Toyota, Honda, or Dodge/Chrysler is completely rebuilt with a lowered floor, and an access ramp at either the passenger side entry door or the rear of the vehicle. Wheelchair securements and durable rubberized floors are added. The result is a vehicle that a wheelchair user can drive into, and be the driver or passenger without transferring out of their chair. Power doors and ramps create a seamless experience, and offer the wheelchair user the freedom of mobility on their terms and schedule.
If you, or someone in your life is interested in exploring mobility freedom, contact Hawaii's premier mobility specialists at Soderholm Mobility on Dillingham Blvd. at (808) 834-1417. One simple phone call can be the beginning of your journey to independence. Also visit Soderholm on the web at www.SoderholmMobility.com.