The AILH Kauai staff is happy to service the island of Kauai. If you or someone you know is an individual with a disability and in need of assistance, please have them contact our office.
---
Kauai Contact Information
P.O. Box 3677
Lihue, HI 96766
808-652-6092
---
Kauai Hours of Operation
Monday-Friday
12:00 p.m. –  4:00 p.m.
Laulima Peer Support Group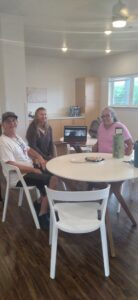 AILH (Aloha Independent Living Hawaii) offers an opportunity to be a part of a network where you can receive support from peers for an interchange of emotional, social, and practical assistance. Also, at times guest speakers will attend & amp; discuss topics of interest.
Laulima Peer Support Group do the things needed to promote independent lives through wellness and well-being through TENACITY & PERSEVERANCE!
For more information, please call Holly at 808-652-6092.
---
Kauai Staff